Running a successful business requires you to consider many things: you need to identify your target market, know your competitors, learn from the competition and manage your finances properly. To manage your finances properly, you need a constantly updated report to have proper information on how your business is faring and know areas you need to improve on. The Point of Sales (POS) software comes with a reporting feature that allows business owners to generate reports based on the data gathered by the software. These reports are designed to help make better and informed decisions compared with when such information is not available. The information produced by these reports is often detailed and covers a wide area.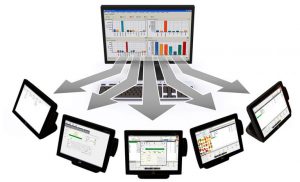 With a POS software, you can spool reports relating to sales, payments, collections, employee, inventory, and customer. A sales report, for example, will cover the name of the customer, type of goods bought, the number of items bought, amount paid, etc. While the inventory report will have the number of goods in stock before and at the end of the period requested. Other examples of information which can be gotten from a POS report are most popular items sold, the mean, median and mode of the goods bought, change in inventory, current inventory, number of promotional transactions (e.g. transactions using coupons, gift cards, sales, special offers, etc.), individual customer loyalty statistics and so on. These reporting functions offer limitless potential in analyzing one's business data, overall customers' experience, and loyalty, etc. It is also a good way to get an unbiased report on what is happening at the cash point.
You can come up with an array of reports using the POS software such as detailed invoices, tax, and user-defined reports. You can also customize all of these to suit your preference. 
Cutting edge POS software makes data available to licensed remote users allowing managers and owners to pull data into a comprehensive, detailed report from any location with an internet connection. An example is ICG Analytics.
What you can do with these reports 
Sales Report: The POS reporting feature gives an extensive report on sales such as profit of the day, sales by POS stand, sales by individual employee, and your busiest/ slowest hours. it also generates detailed reports that identify not only your best-selling items and categories but also show costs and gross margin so that you can measure the effectiveness of your pricing.
Track your Inventory: POS reports let you access all your inventory with full precision and ease, these reports help to reveal if your sales match the stock listed and will help you see if products are missing. 
Employee Management: With the POS reporting feature you can track your employees' progress and shortcomings. Wondering if your employees are working effectively? by running a simple report on employee's performance you can see which employee is meeting their KPIs and which is slacking off.
Customer Loyalty Reports: Sometimes you wonder how often your best customers shop? What kind of product do they tend to favor when they come? Etc. All of these can be gotten in a Customer Loyalty Report. It is no secret that the better you know your customers, the more loyal they'll be. Identifying their buying habits also help you communicate your new stock to the right people.
How Effective is POS Reporting?
It helps you detect fraud. 

It saves you the time, money and energy you would otherwise have spent trying to fix the mistakes an employee made.

It keeps you updated with your daily cash-flow activities, which can come in handy when preparing a management report at the end of the week or month. It also allows you to see how you are measuring up to short-term goals, allowing you to address problems as they arise, rather than after the fact. 
In Conclusion
The POS software reporting feature is very beneficial to the growth of your business because not only does it assist with sales management, it extends to the general management of your business activities. 
http://pp.posshop-ng.com/wordpress/wp-content/uploads/2017/09/New_POS_logo_final2-1-300x210.png
0
0
admin
http://pp.posshop-ng.com/wordpress/wp-content/uploads/2017/09/New_POS_logo_final2-1-300x210.png
admin
2019-09-24 12:09:54
2019-09-24 12:18:20
Using POS Software to Generate reports: How effective?