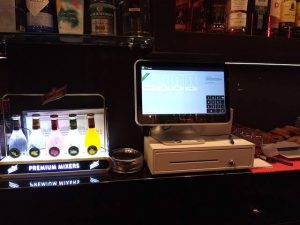 In the past small business owners were presented with very few ways to accept payments from customers. They mostly had a sign on their windows or the payment point that said, "We accept cash and credit cards." Today, with the advent of smartphones and RFID technology, every small business owner needs to understand that a POS system is a necessary tool for a successful business. With competition lurking around, your business needs every advantage available to get ahead. 
In this article, we will help you understand what a POS system is and the features that are non-negotiable for your small business. 
What is a POS System?
Remember the last time you bought something from a supermarket? The place where you proceed to pay for your shopping is a POS or a Point Of Sales. In simple terms, a POS system is a combination of hardware and software that serves as a checkout point where customers complete their in-store transactions.
Now you understand the uses of a POS system, let us look at the essential features needed for your small business. 
Essential Features for Small Business POS Software
Inventory Management:
One critical area small businesses need to pay attention to is inventory management. For most small businesses, there is a likelihood for inventories to get complicated, and an error in inventory operations can quickly compound into something significant down the line. The inventory management feature of a pos system prevents errors, performs spot checks, allows a retailer to create product, categories, and manage purchase order with built-in catalog. The tool helps you stay organized and saves you time allowing you to update inventories as a bulk instead of individually. Additionally, the inventory management feature lets you know when it is time to order more of a particular product or ingredient. 
Another thing inventory management does is that it allows you to calculate the value of your goods, therefore, preventing a situation where you have too much cash tied up in your inventory. This inventory management feature helps you accurately track the cost and value of your inventory items.
Reporting and Analytics 
Another essential feature required in a POS system is the Reporting and Analytics capabilities. These tools are pivotal in the eventual growth of your business because they help you with making informed decisions that facilitate the growth of your business. 
Your report and analytics tool should be able to generate a comprehensive report, one relevant to your business need, for example, staff performance reports, or daily sales reports, etc. These tools should be easily adaptable and easy to use with a base of flexibility, for example, the ability to compare various metrics like monthly performance. Lastly, the system should give you access to real-time data, like knowing the level of your stock at a simple glance, so you are aware of which stock item is sold-out or which ingredient isn't available in your restaurant. 
Marketing
Smart hospitality and retail businesses recognize the importance of marketing and implement it in everything they do. Fortunately, POS systems can facilitate marketing with the use of their CRM feature. This tool helps to generate repeat business by utilizing it for your loyalty program and email marketing. Make use of this tool to turn walk-in customers into loyal customers. 
Integrations
Your point of sale will more often than not offer utilities to integrate with third-party software. For example, integrating with an e-commerce platform like Presta Shop can keep your inventory in sync between online and in-store sales. If you run a restaurant, an online ordering service or delivery service is an integration to consider.
Payment Processing 
When searching for the best POS System for your small business, you will want to make sure you choose one that meets your payment processing needs. The most important thing is to find a system that supports the type of payment you want to accept. Your terminal should be able to accept credit/debit card payments and EMV chips for contactless payment.
Reliable Hardware
Cloud POS is typically recommended for small businesses because they run on commonly available hardware like android systems or IPad. The hardware is easy to get, and getting replacements are easy. Also, the hardware for Cloud POS is less expensive than traditional Windows terminals. Barcode scanners are another necessary hardware, especially for retail businesses. Getting a barcode scanner to scan items to add to order when ringing up customers is much faster than adding items manually. It reduces wait time and improves customer experience. A reliable receipt printer is also necessary for your business as it allows customers to have proof of their purchase and for you to keep track of transactions. 
Recommended POS Solution
Now that you have a concise understanding of the various criteria that define the best POS system for small business, the next is to look at an option that fit the mold.
HIOPOS Cloud Solution
Hiopos Cloud is a global solution that works for restaurants, bars, cafes, pizzeria, ice-cream shops, and retail businesses. Designed for growing business, Hiopos features powerful easy to use tools to help merchants and restaurants run a more profitable business by boosting sales and improving efficiency.
Hiopos is an inexpensive cloud-based solution that comes at an affordable fee. You enjoy free upgrades to newer versions that include new features, bug fixes, and security issues.
Ultimately, picking the right POS system entails you understanding your unique business need and then finding a solution that addresses them at a price you can afford. Most importantly, choose a POS that can see you through your busiest days while standing the test of time. Let us set you up with one. Request a Demo at no obligation here pos@posshop-ng.com
http://pp.posshop-ng.com/wordpress/wp-content/uploads/2017/09/New_POS_logo_final2-1-300x210.png
0
0
admin
http://pp.posshop-ng.com/wordpress/wp-content/uploads/2017/09/New_POS_logo_final2-1-300x210.png
admin
2020-11-02 10:55:05
2020-11-02 10:55:05
The Best POS System for Small Business