Receipt Printers
Linked to computers and POS Terminals, receipt printers are used by banks, restaurants, supermarkets, hotels, etc to print receipts that authenticate customers' cash payments and deposits. Receipt printers come in dot matrix forms (i.e. uses ink ribbons and paper rolls); and thermal forms (no need for ink. Uses just paper rolls).
POS Shop Ltd stock the STAR Micronics EMEA range of receipt printers – TSP 100, TSP 700II, SP 700, etc.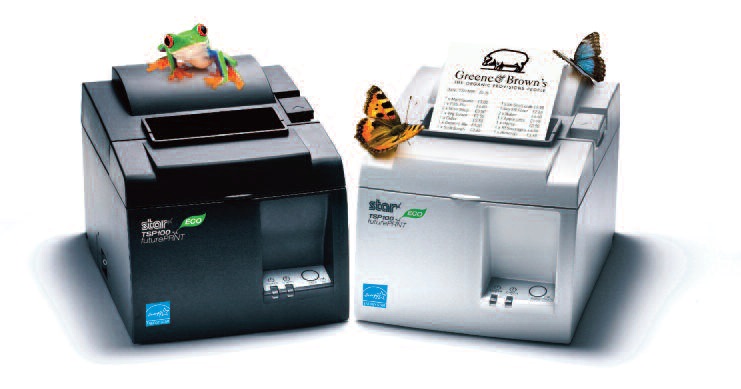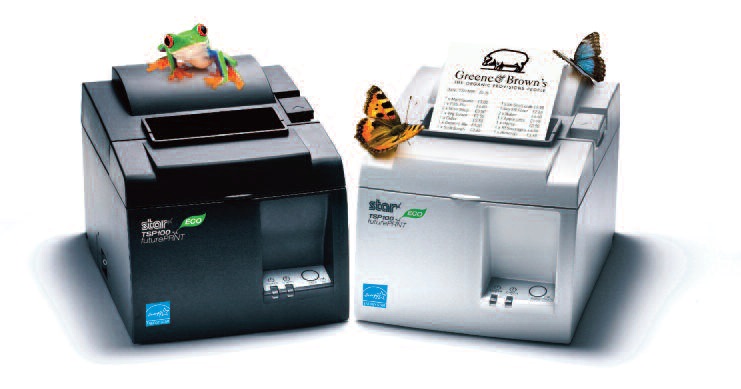 Fast, reliable, easy to use and easily integrated into current systems, the STAR TSP 100 is the perfect receipt printer choice for self service, retail stores, fast foods, and delivery services. The STAR TSP 100 comes in five variants:
TSP100U – printer with USB interface
TSP100ECO – printer with dedicated eco features
TSP100USB – printer with powered USB interface
TSP100GT – printer with USB interface and high gloss casing
TSP100LAN – printer with ethernat interface
FEATURES
-Two colour output for emphasis using two specialist colour paper
-Selectable virtual serial port emulator
-Port for cash drawer/peripheral drive circuit
-Easy load "drop in and print" paper loading
-Tearbar and autocutter versions
-Robust high speed guillotine cutter for increased reliability
-Full speed USB interface
-Have option of a splash proof cover for extral protection
-Have option of display fo vertical use
-80mmx72mm paper print output
BENEFITS
-Design receipts according to taste inputing logo and graphics
-Receipts can be designed using different fonts
-Inputs automatically promotional or marketing material on receipts for a particular customer or set of customer each time their names are called up on the system
-Determine number of copies of receipt to be printed
-Specify the texts and graphics to be printed per copy of receipt.
SPECIFICATIONS
TSP100U,TSP100USB,TSP100LAN,TSP100ECO,

TSP100GT

Print Method
Direct Thermal Printing
Traditional Print Speed
125mm/second: TSP100U,TSP100USB,TSP100LAN

150mm/second: TSP100ECO

250mm/second: TSP100GT

Print Colour
Charcoal Grey, White
Print Resolution
203 dpi (8 dots per mm)
Two Colour Print Capability
Red & Black, Blue & Black (special paper needed)
Logo Store Capacity
Unlimited
Drivers Available
Windows7/Vista/XP/XPEmbedded/WePOS/CE.

Windows 98/ME/NT4.                                                  

Linux, Mac OSX, OPOS, Java-POS, CUP5, POS for Net. USB Vendor Class : Star IO

Dimensions
142mm (W) x 204mm (D) x 132mm (H)
Print Head
100km
Guillotine Cutter
1 million cuts
MCBF
60 million lines
Line Spacing
3mm or 4mm + programmable
The Star TSP700II is a receipt printer that is ideal for high volume retail establishments like grocery stores, healthcare, restaurants and banking due to its high speed and multifunctional abilities.
FEATURES
–        Ultra high speed of 250mm/sec (48 receipts per minute)
–        Ultra high class- leading reliability
–        Paper thickness of up to 0.15mm
–        Swappable interfaces : serial, parallel, USB, PUSB, LAN
–        Black mark label support
–        Rear paper feed
–        Vertically mountable
BENEFITS
–        "Drop in and print" easy load
–        Its multifunctional ability makes it suitable for printing receipts, labels,
tickets, or barcodes.
–        Its head design offers darker print
–        Low noise during printing
–        Has two paper low sensors, one for horizontal use and the other for vertical use.
SPECIFICATIONS
STSP700II
Printer Mathod
Direct Line Thermal
Printer Speed
48 receipts per minute (250mm/sec)
Printer Case Colour
Putty or Gray
Print Resolution
203×203 dpi; 406x203dpi
Model Available
Autocutter
External Paper Feed Support
Yes
Cover Open Sensor
Yes
Multiple Copy Support
N/A
Journal Capability
N/A
Digitally Signed
Yes
Swappable Interfaces
Yes
Connectivity
Serial, Parallel, USB, Powered USB, Ethernet,

Virtual Serial Port to USB, Virtual Serial Port to Ethernet

Label Support
Yes (black timing marks between labels required)
Logo Store Capacity
2 Mbit Flash ROM with Graphic Management Software
Font Size
12×24
Line Spacing
3mm or 4mm or programmable
Maximum Print Width
80mm paper=72mm,

82.5mm paper=80mm,

58mm paper=52mm

Dimensions
147mm(W) x 213mm(D) x 148mm(H)
Weight
1.75kg
Reliability MCBF
60 million cuts
Autocutter
2 million cuts
Peripheral Drive Circuit
2 circuits, (24V max – 1A),1 Compulsion input
Power Consumption
Average 1.8AMP Printing, 0.15AMP Standby. Requires PS 60A external power supply
Drivers Available
Windows XP 32 Bit,Vista 32/64 Bit,Windows 7 32/64 Bit, Server 2008 32/64 Bit, XP Embedded, CE, POSReady 2009, OPOS, JavaPOS, USB Vendor Class, Linux, Mac OSX, StarlO SDK
SP700
Star SP700 is a dot matrix printer that has all the features of a thermal printer in addition to its own unique features. Its splash resistant design makes it the ideal choice for heavy duty kitchen and bar applications. The SP700 is great for use in retail environments, fiscal environments, hospitality
FEATURES
–        "Drop in and Print" easy load for paper and ribbon
–        Internal Power supply
–        Wall mount option
–        Buzzer alarm option
–        Splash resistant cover
BENEFITS
–        Prints till number, time and date information on receipts
–        Faster processing speed
–        Queue management
–        Stores up to 225 graphics, mono or colour gifs, jpgs, or bmps imported and named.
–     Prints two colour receipts – black and red
–     Can be used horizontally or vertically
SPECIFICATIONS
| | |
| --- | --- |
| | SP700 |
| Printer Method | Matrix |
| Print Speed | 4.7 to 8.9Ips(13 receipts per minute) |
| Printer Case Colour | Grey or white |
| Models Available | Tearbar, Tearbar+Rewind, Autocutter, Autocutter+Rewind |
| Connectivity | Serial, Parallel, USB, or No interface, Ethernet, WiFi, Virtual Serial Port with USB, Virtual Serial Port with Ethernet |
| Cover Open Sensor | 2 |
| Font Size | 13 x 20 |
| Dimensions | 160mm(W) x 245mm(D) x 152mm(H) |
| Weight | 3.65kg max depending on model |
| MCBF | 22 million lines |
| Autocutter | 1.5 million cuts |
| Drivers Available | Microsoft applications including JavaPOS, OPOS with Vista WHQL certification |