This is used to read barcodes on items. Barcodes are series of alternating dark and light vertical bars of varying widths which contain encoded data. These black vertical bars are what the barcode scanner reads and translates into human readable form. For products, the barcode scanner is used to read the information contained in the barcode, providing the person at the sales point necessary information to clear the item for sale. Barcode scanners are also useful in inventory control. Barcode Scanners come in different model types – handheld, desktop.
Handheld barcode scanners are ideal for warehousing, retail, distribution, manufacturing and all points in between.
Desktop barcode scanners are ideal for retail environments checkout.
Barcode scanners whether handheld or desktop are manufactured based on technology (laser, imager, or CCD technology) and connectivity (WiFi, USB, Ethernet, or Bluetooth). Choosing the correct barcode scanner depends on the nature of its use and the environment to be used in.
POS Shop Ltd stock Honeywell Range of Barcode Scanners with popular products like the IT3800 Handheld Scanner,  Fusion Scanner, Solaris Tabletop Scanner.
Using unique linear imaging technology, the IT3800 is a handheld barcode scanner that delivers exceptional performance in any environment. Designed to fit all sized hands, the IT3800 has a soft grip area that adds comfort and prevents slips during use. Ideal for retail point of sales, in-store inventory, document management, transaction processing and vehicle registration applications, the IT3800 connects to all POS terminals, portable data terminals, and all popular PCs Apple Mac.
FEATURES
–     Full impact resistant bumpers
–     Enduring construction
–     270 scans per second
–     Work range from 0.5 inches to 18 inches on 100% UPC/EAN symbols
–     Fully programmable options for application specific "good lead" LED and beeper settings
BENEFITS
–     Fast barcode reading and high tolerance to motion
–     Durable as it has no movable parts to wear out
–     Reads damaged and poorly printed barcodes
SPECIFICATIONS
| | |
| --- | --- |
| | IT3800 |
| Illumination | 63 NM visible Red LED |
| Receiving device | 3648 element linear imager |
| Reading distance | From 0.5"(1.3cm) to 18"(46cm) on medium density barcodes |
| Resolution | 3 mil at 4"(10cm) distance |
| Skew/Pitch Angle | +/- 65 degrees |
| Horizontal velocity | 20"(51cm) per second |
| Scan Rate | Up to 270 scans per second |
| Decode Rate | 270 decodes per second |
| Dimensions | 7.9cm(W) x 11.2cm(L) x 15.0cm(D) |
| Weight | 158.8g |
| Mechanical shock | Operational after 50 drops from 5ft(1.5m) to concrete |
| Vibration | Withstand 5G peak from 22 to 300 Hz |
| MTBF | Per MIL-HDBK-217F Ground Benign exceeds 85,000 hours |
| Symbologies | codabar, code 3 of 9 including PARAF, interleaved 2 of 5, straight 2 of 5 industrial, matrix 2 of 5, code 11, code 93, code 128, UPC, EAN/JAN, China Postal Code, GS1 DataBar, 2005 Sunrise/GTIN compliant, and ISBT 128 concatenation(requires a paid license) |
| Interfaces | 3800GXSE: All popular PCs and terminals via keyboard wedge, keyboard replacement/direct connect, USB, TTL level RS-232, IBM |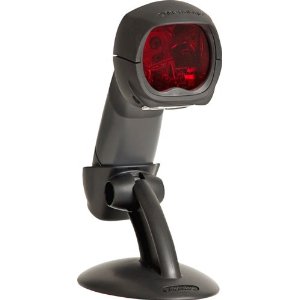 The Honeywell fusion scanner is a handheld omnidirectional laser scanner with single line capability that increases retail checkout system efficiency with its automatic in stand operation, optionally integrated EAS, and industry leading scan performance making it ideal for medium volume retailers. Stabilized with a metal base, the stand may also be hard mounted to counters or walls.
FEATURES
–      Primary omnidirectional scan pattern
–      Secondary single-line scan pattern
–      Automatic stand detection
–      Sleep mode with IR wake up
–      Optional EAS integration
–      Flash ROM
–      Integrated infrared sensor
BENEFITS
–      Aggressively scans barcodes in any direction increasing throughput
–      Allows you switch to a targeted single-line menu scanning with just a push
of a button
–      Reduces operator fatigue due to its hands-free operation
–      Multiple sleep modes helps reduce power consumption thus extending life
of the scanner and lowering cost of operation
–      Deactivates EAS tags and decodes barcodes in one single scan
SPECIFICATION
| | |
| --- | --- |
| | FUSION |
| Illumination | Visible laser diode 650nm |
| Laser power | 1 Mw (peak) |
| Number Characters Read | Up to 80 data characters |
| Scan Speed | 1,333 scan lines/sec, omnidirectional; 67 scan lines/sec, single line |
| Scan Pattern | 5 fields of 4 parallel lines omnidirectional; or button activated single line |
| Number of Scan Lines | 20(omnidirectional); or 1(single line) |
| Minimum Bar Width | 5 mil(0.127mm) |
| Print Contrast | 35% minimum reflectance difference |
| Roll, Pitch, Yaw | (360,60,60) degrees |
| Dimensions | 65mm(W) x 189mm(L) x 73mm(D) |
| Weight | 195g |
| Interfaces | RS232, Keyboard wedge, Stand alone keyboard, IBM 468x/469x, USB,ODA |
| Symbologies | Auto-discriminates all standard ID barcodes, including RSS-Expanded, RSS-14 and RSS-14 limited |
This tabletop scanner comes with an integrated RF EAS antenna, checkpoint and sersormatic interlock and the ability to be flash upgraded. The Solaris barcode scanner has an unmatched features set that aggressively scans high density codes and fits easily into any enclosure, making it ideal for high volume retail environment.
FEATURES
–       Reads 50 mil barcodes
–       Has a diagnostic indicator
–       USB, serial ports interfaces
–       Integrated RF EAS antenna
–       Remote configuration and flash upgrade
BENEFITS
–       Optimises checkout procedures as it aggressively decodes high density
barcodes
–       Decreases downtime as its diagnostic indicator enables fast and easy
troubleshooting
–       Saves space and money as it draws power from host through 12 volts USB
or serial port thus reducing number of cables at the point of sale.
SPECIFICATIONS
| | |
| --- | --- |
| | SOLARIS |
| Illumination | Visible laser diode 650mm +/- 10nm |
| Laser Power | 0.900mW(peak) |
| Number characters read | Up to 80 data characters |
| Scan speed | 1800 scan lines per second |
| Scan pattern | 5 fields of 4 parallel lines (omnidirectional) |
| Minimum bar width | 5 mil(0.127mm) |
| Print contrast | 35% minimum reflectance difference |
| Pitch, yaw | (360,60,60)degrees |
| Dimensions | 152mm(W) x 92mm(D) x 152mm(H) without stand |
| Weight | 0.7Kg |
| Interface | RS232, Keyboard wedge, USB, IBM 468x/469x |
| Symbologies | Auto- discriminates all standard barcodes, including GS1 DataBar |