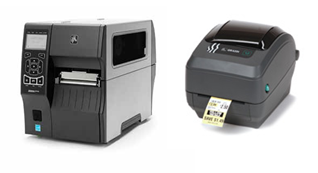 These are used to generate barcodes which are then tagged onto items. Barcode printer models come according to printer type and according to print method.
By Print Method – Thermal transfer barcode printers make use of ink ribbon and barcode labels, while the direct thermal printers utilize only labels and do not have need for ribbons.
By Printer Type – Mobile Barcode Printers are perfect solutions for printing on the go whether indoors or outside in any weather condition making them ideal for those in the hospitality industry for self service at golf courses, parks, pools and other recreational zones where large crowds are expected. Mobile barcode printers can be connected to mobile computers, smart phones or tablets through wifi, bluetooth or usb.
IndustrialPrinters are designed for high volume and demanding print applications and because of their higher media capacities and higher resolution print, they are ideal for warehouse and manufacturing environment where reliable printing is critical.
DesktopBarcode Printers are great for officeand retail applications where less than 500 labels are printed per week. They are easy to operate and produce the same high quality print found in larger printers.
Wristband Barcode Printers are used to create customised wristbands. Ideal for healthcare, eventand theme park applications, they provide high quality print on different wristband types to fit everyone from infants to adults.
POS Shop Ltd stock barcode printers from the top manufacturer of thermal barcode printers,Zebra Technologies with popular products like the TLP/LP 2800 SERIES, HC 100 Wristband Printer, Z SERIES, G SERIES, QLn PLUS SERIES Mobile Barcode Printers.